Safe transportation
By utilizing the digital tachograph data, we are ensuring strict adherence to all traffic regulations while still maintain drive efficiency.
The contents of the drive recorders are checked daily. The data is then used to ensure products are transported under safe driving conditions.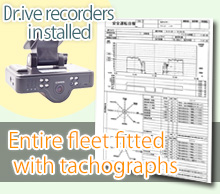 Temperature measurements for individual products can be taken and recorded, allowing for optimal transport temperature.
Temperature conditions can be managed based on time. An important weapon for quality delivery to your desired time zone.